Bonjour Printemps – Spring in Paris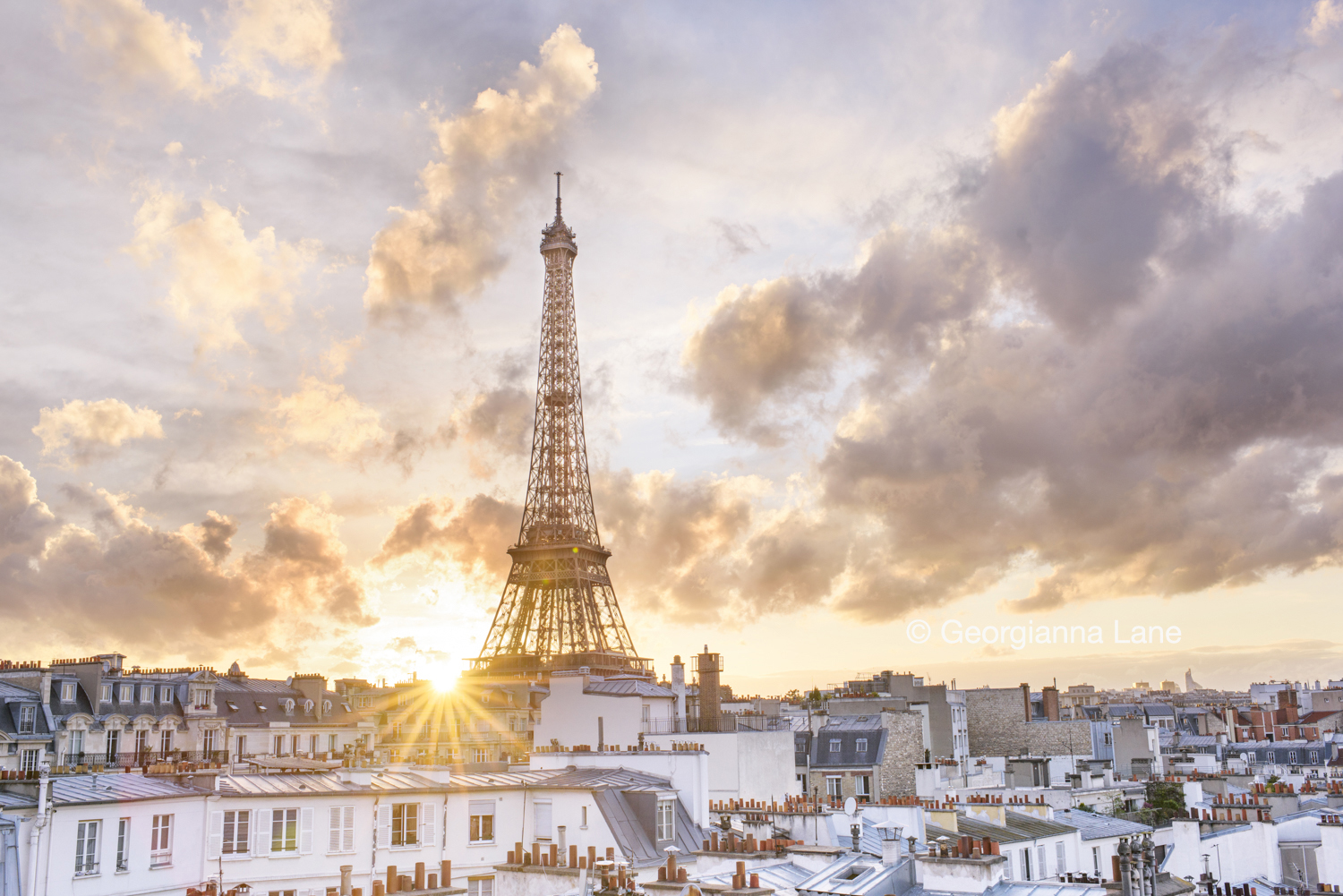 Dear Friends,
How are each of you? I hope very, very well. I've so much to share that it's a bit overwhelming so I'll dive in and we'll see where it takes us, okay?
To start (drumroll!), the biggest and most exciting news is that I've spent most of the last three months living in Paris, working on my second book! Yes, that is absolutely a dream come true! I honestly cannot wait for you to see it because I have written and photographed it with all of you in mind, hand-picking locations and subjects in the hopes of providing you an inspiring, marvelous adventure in the City of Light. The manuscript and photos have now been turned over to my wonderful publisher, Abrams, in New York. But we all have to be patient as it won't be released for some months to come. So, I'll be sharing other photos and adventures to keep us occupied in the meantime.
While I've been absent here and on other social media, I do hope you've been following along on Instagram, where I post most every day @georgiannalane and @aparisianmoment. Below is a snippet of some of the locations and images that I shared there but do pop over for a quick tour of the last three months.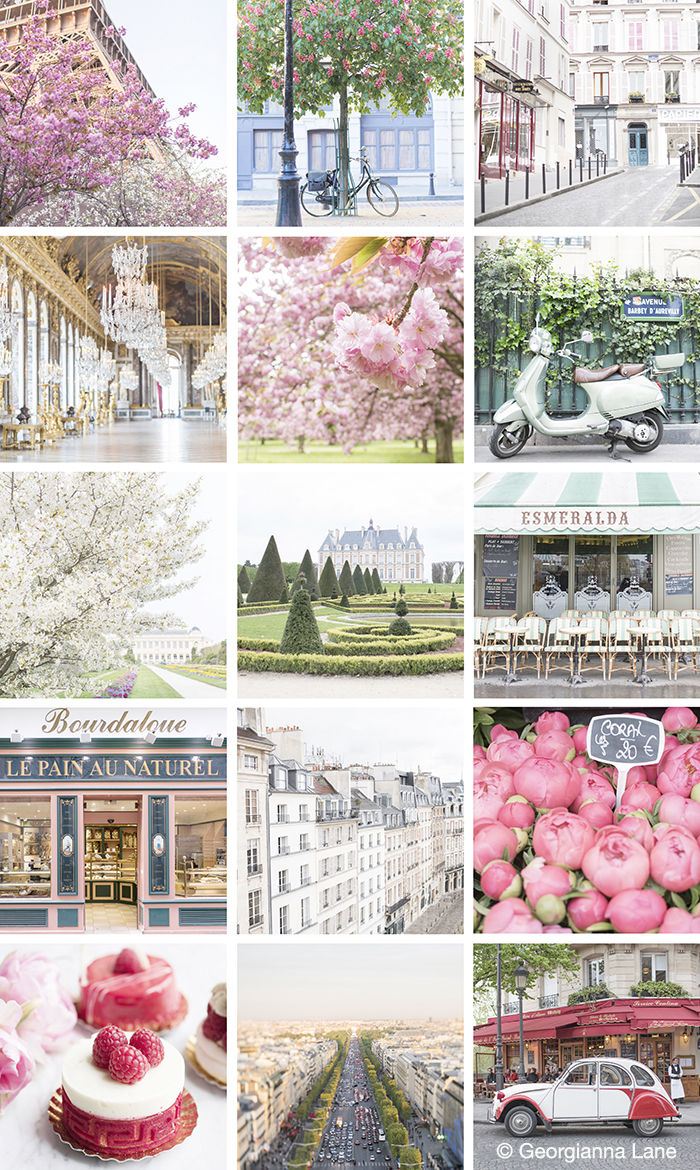 From top left: Cherry blossoms at the Eiffel Tower; chestnut blossoms at Place Dauphine; street in Montmartre; my private shoot at the Hall of Mirrors, Versailles; cherry trees at Parc de Sceaux; green Vespa; white cherry blossoms at Jardin des Plantes; Chateau de Sceaux; Cafe Esmeralda; cute boulangerie; Place Dauphine from above; pricey peonies in early April; raspberry pastries; Champs Elysées from the Arc de Triomphe; perfectly placed Citroën on Île Saint-Louis.
(Above) The Paris Perfect apartment (The Gamay) that I rented during the month of March, on rue Saint-Dominique in the 7th arrondissement. In April, I moved into another Paris Perfect apartment (The Cognac) with the staggering Eiffel Tower view that you see in the first image above. It truly was the most perfect and magical atmosphere in which to finish photographing and writing my book.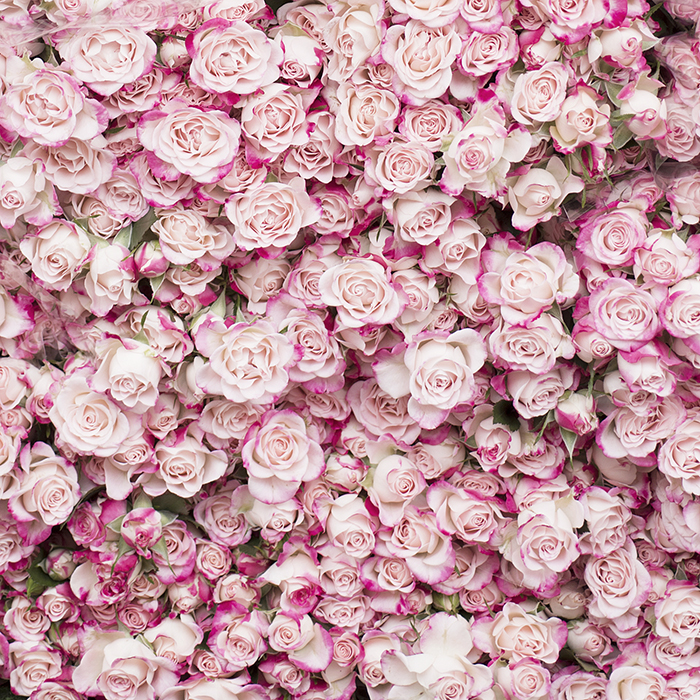 Roses at the Marché Av du Président Wilson, my favorite street market in Paris.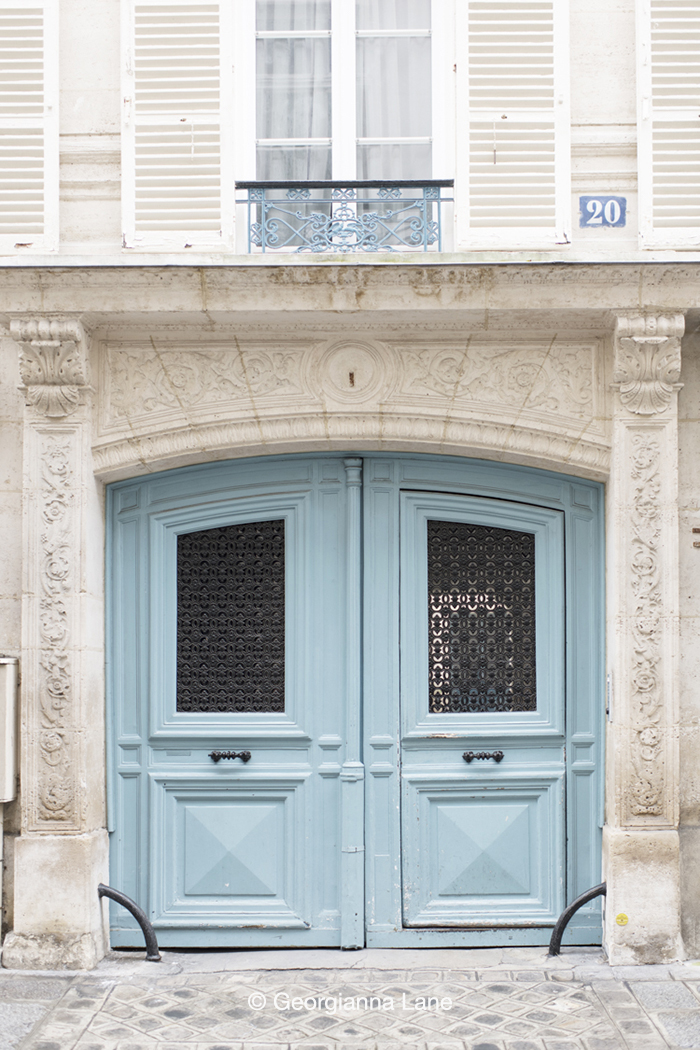 Beautiful blue door in Saint Germain.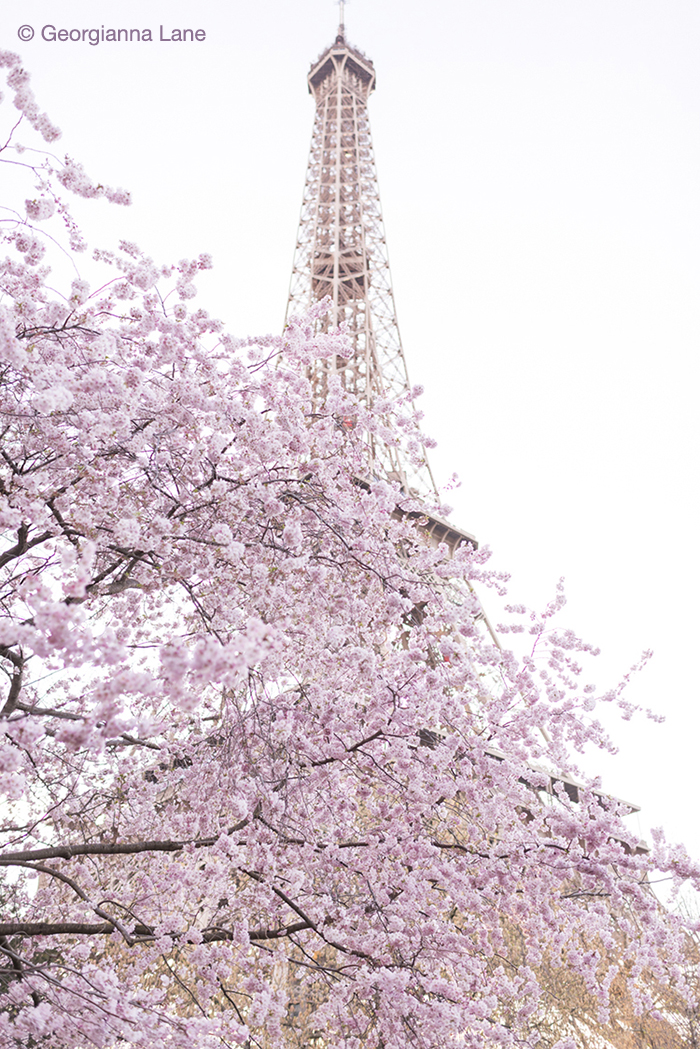 Accolade cherry blossoms on the Champ de Mars. Since I was living in the 7th arrondissement, it was a short walk each morning to the Champ de Mars and the Eiffel Tower. Thus I was able to capture the unfolding panoply of cherry, magnolia and apple blossoms over the course of the spring.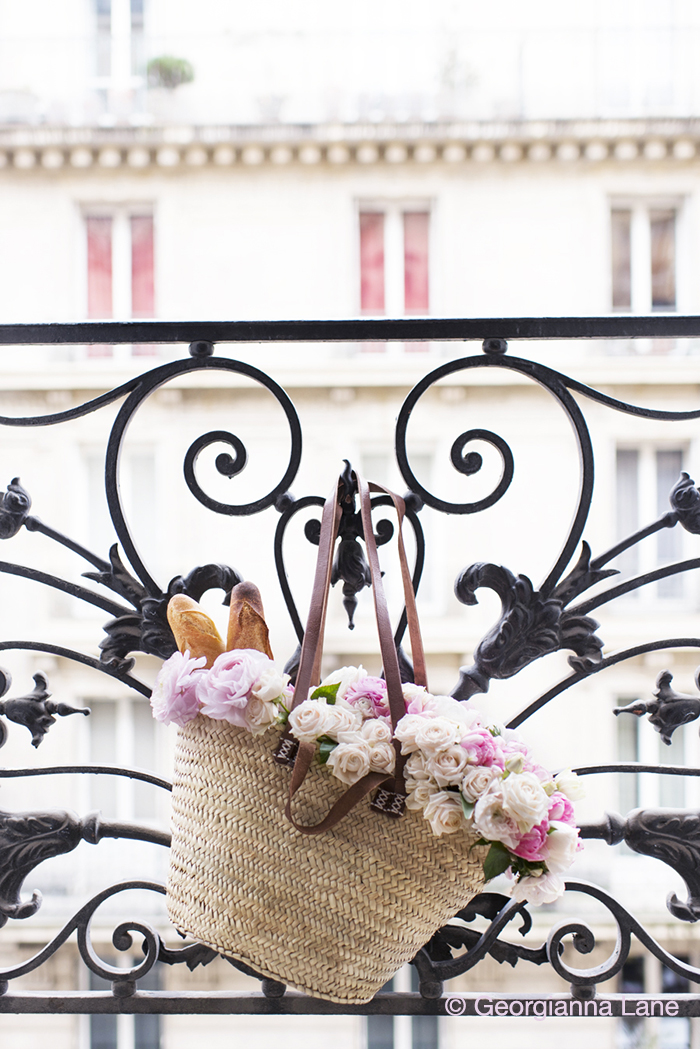 Flowers and baguettes from the nearby Rue Cler market. Living like a local in this neighborhood was a daily joy.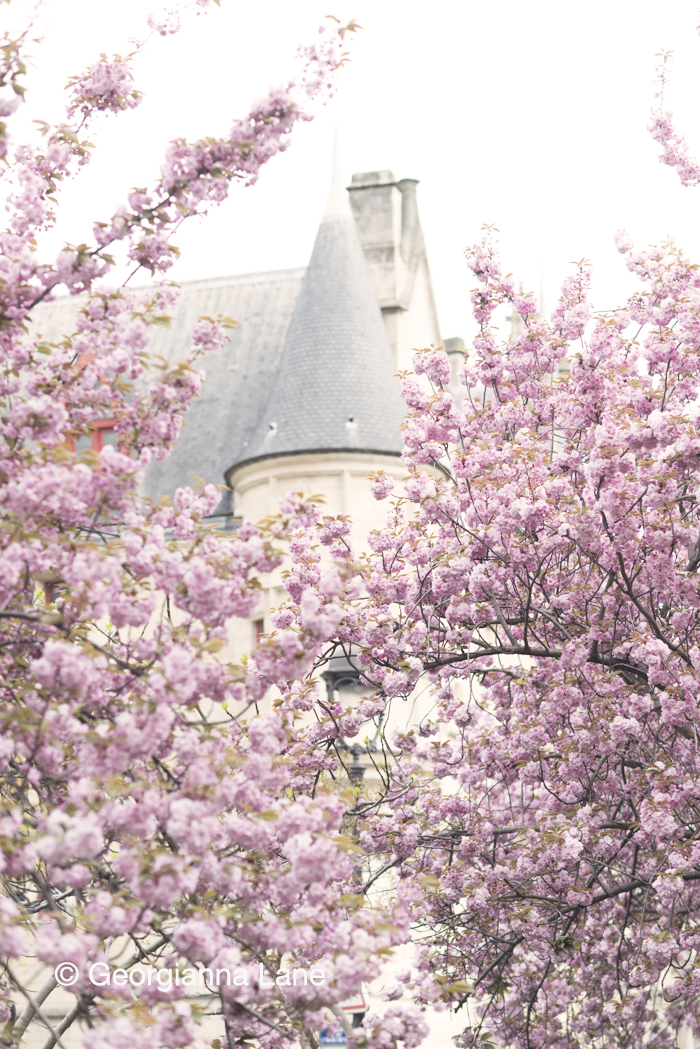 Kwanzan cherry blossoms in the Marais.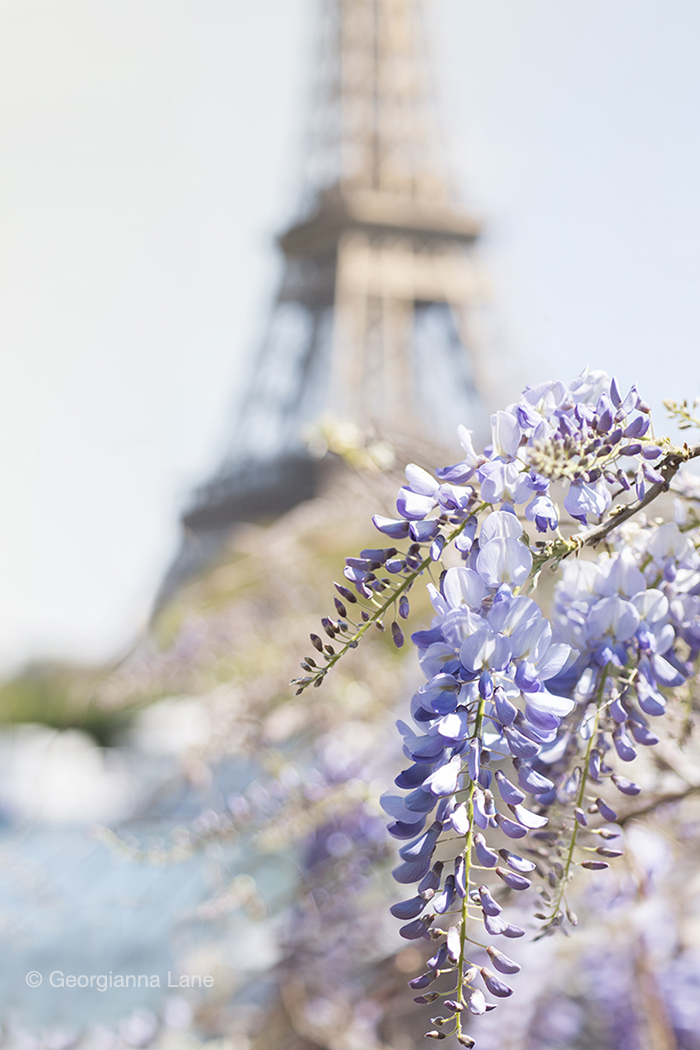 A May Day treat: Wisteria blooming near the Eiffel Tower.
I'm back in the States now for my annual photo shoots at the flower farms and gardens of the Pacific Northwest. I'll also be posting many more photos from my weeks at the David Austin rose garden last summer. My first book, Vintage Roses, being published in September by Pavilion Books in London, is now complete and I have many, many images that sadly couldn't fit into the book but happily can be shared here.
Do let me know what you've been up to – I can't wait to get caught up!
xo
G