Hers
---
hers: design with a feminine touch
by Jacqueline deMontravel
Publisher: Clarkson Potter
Hardcover, 224 pages
Reviewed January 20, 2012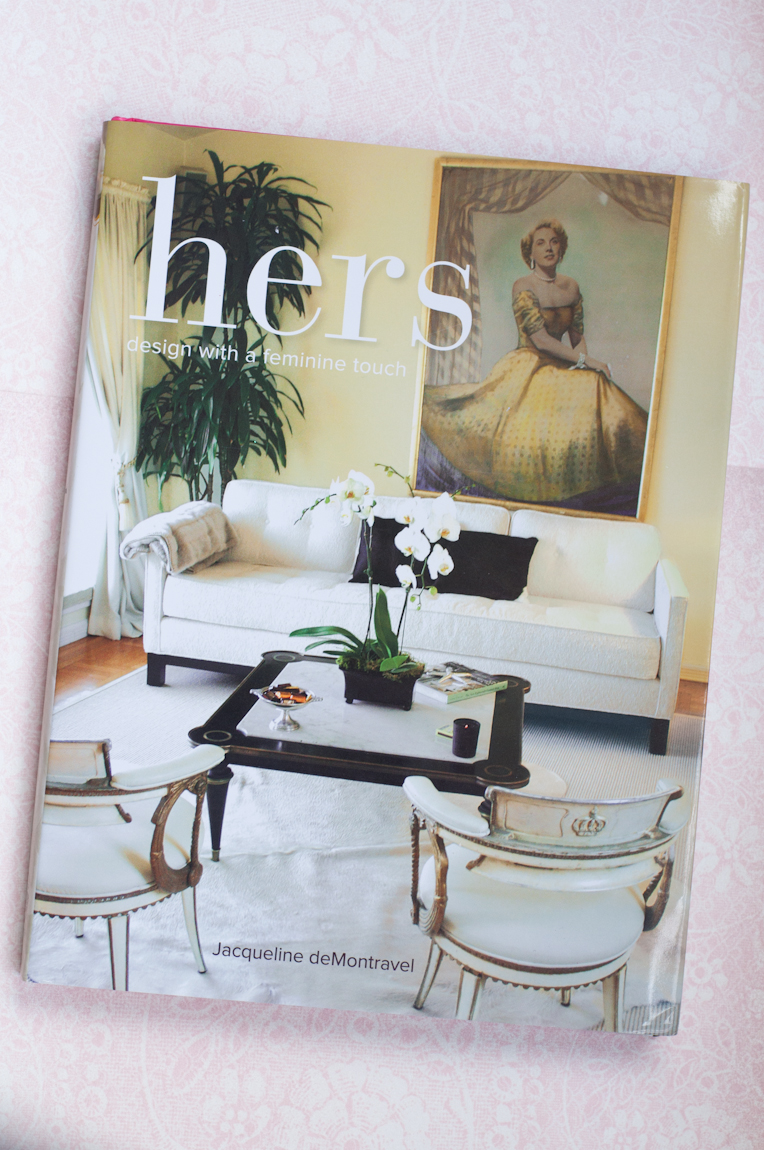 A room should captivate while being inviting; it should not only be comfortable but should make you feel at your best.
This sentence struck me immediately while reading hers: design with a feminine touch by Jacqueline de Montravel. How often do we create a room to that standard? We create rooms for function, looks, convenience or efficiency, yes, but "to make us feel our best"? It bears considering.
Ms. deMontravel is the Editor of Romantic Homes magazine and oversees numerous publications for Beckett Media including Cottages & Bungalows and Victorian Homes. She is also the author of The Vintage Table and co-author of 21st-Century Etiquette. This, her latest, is a sumptuous, elegant book about creating, claiming or regaining a physical and thus emotional space that is uniquely feminine.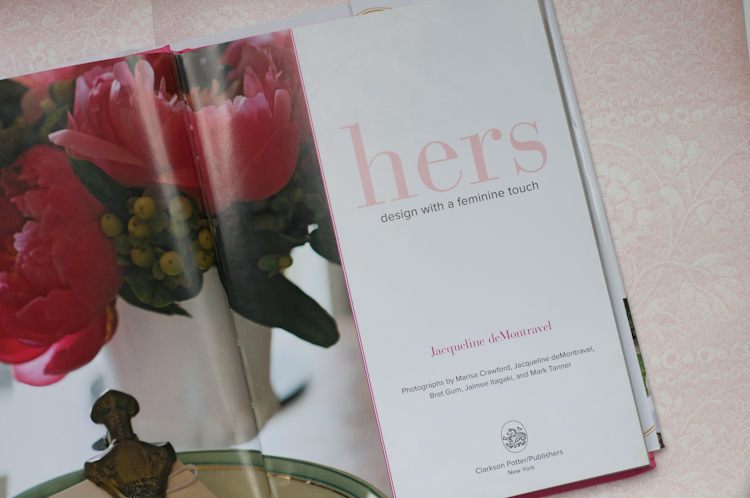 Although the book is subtitled "Design with a Feminine Touch", its overall look is not frilly or sentimental. Rather it celebrates an inherent classic grace in women and nurtures a natural sophistication that most women cherish but that can be elusive to maintain in the hectic modern world.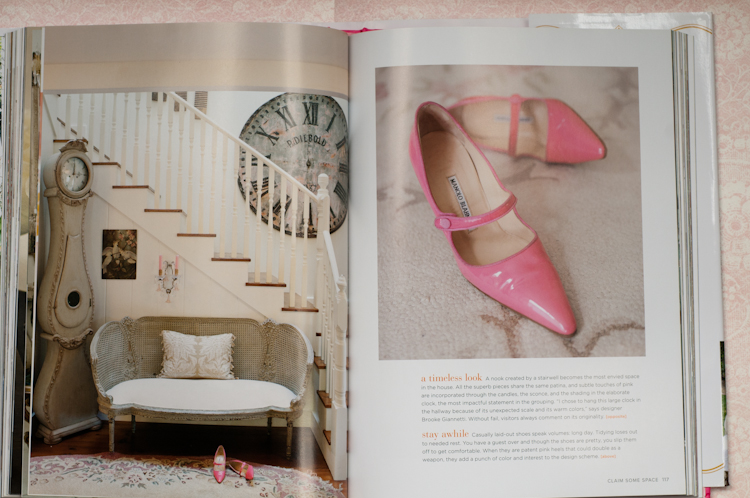 Recurring elements in the book that most appealed to me as a photographer were the beautifully arranged still lifes – artful and clever ways to organize and display collections. Below is one of my favorite spreads: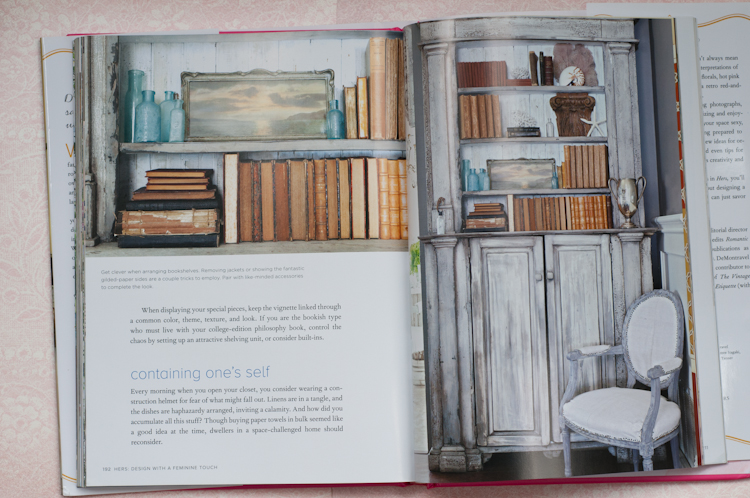 The photographs throughout are uniformly rich with classic appeal. I was also pleased to see that the production values of the book itself were very high – printing, binding and design are top notch and enhance the overall message of the contents without overpowering or detracting from it.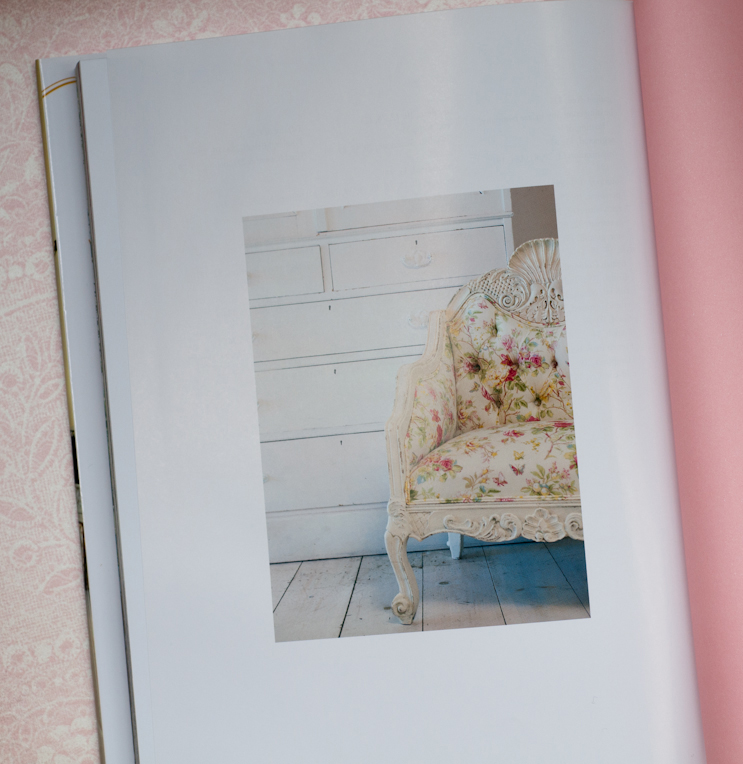 Real interiors with an elegance that is comfortable and welcoming provide ample inspiration for those just starting out in designing a personal haven or for the more experienced in home decor and creating ambiance. Ms. deMontravel recommends choosing a style, whether it be French, Gustavian, Mid-century, Romantic or Traditional, but many of the rooms featured are happily not slavish to a strict look and are as delightful a mix of eclectic elements as is one's life in general.
Hers will be a welcome addition to any personal or professional interior design library and I can see it being a cherished resource for years to come.
(My thanks to Clarkson Potter Publishing for providing an advance copy of the book for my unbiased review.)
GL
January 20, 2012