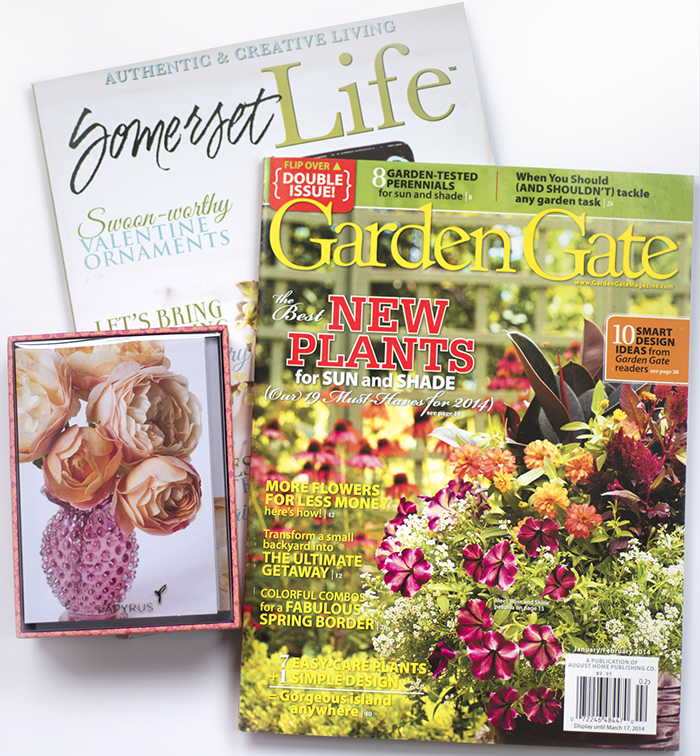 Hello, dear friends! I hope that wonderful and joyful days have welcomed you to the new year. These early weeks in January, though often bleak and challenging, offer the perfect time for reflection and assessment. I love reading your year-in-review posts and your hopes, plans and dreams for the coming months. One of my dearest wishes is that each of you have the best year ever with an abundance of all that you desire. Although I didn't manage such a review post for you this time, I thought I'd update you with some of my latest work which is in stores now.
I am so fortunate and appreciative to work with these truly stellar publishers. Somerset Life magazine, and my dear friends at Stampington, are the crème de la crème, continually presenting exquisite publications that inspire and celebrate the very best of the endeavors of so many creative spirits. I am always humbled by the talents and accomplishments of the editors and the artists represented in each of their magazines.
As most of you know, David and I live on a hilly, half-acre wooded property in north Seattle. With our travel schedules and other commitments, it is a trick maintaining and upgrading our six lawns and 22 (yes!) flower beds. My sometimes limited gardening skills are always enhanced by the detailed and informative articles in Garden Gate magazine. Such a delightful publication and entirely ad-free. Each issue is a treasure trove of ideas and plans.
Long before I began licensing images with Papyrus, I had tremendous admiration for them – they were always, and remain, my first choice for gorgeous cards and stationery. So to have my images appear on their cards is a complete thrill.
But mostly, my intention in sharing these was to express my gratitude to YOU. By faithfully visiting here through the years, even when circumstances have kept me out of touch sometimes, you have made all the difference. Your support and encouragement and enthusiasm are honestly priceless – none of this would be remotely the same without you along for the journey. So, I thank you and hope that when you see these successes, you know that you are part of them.
Sending love and the very best for 2014!
G