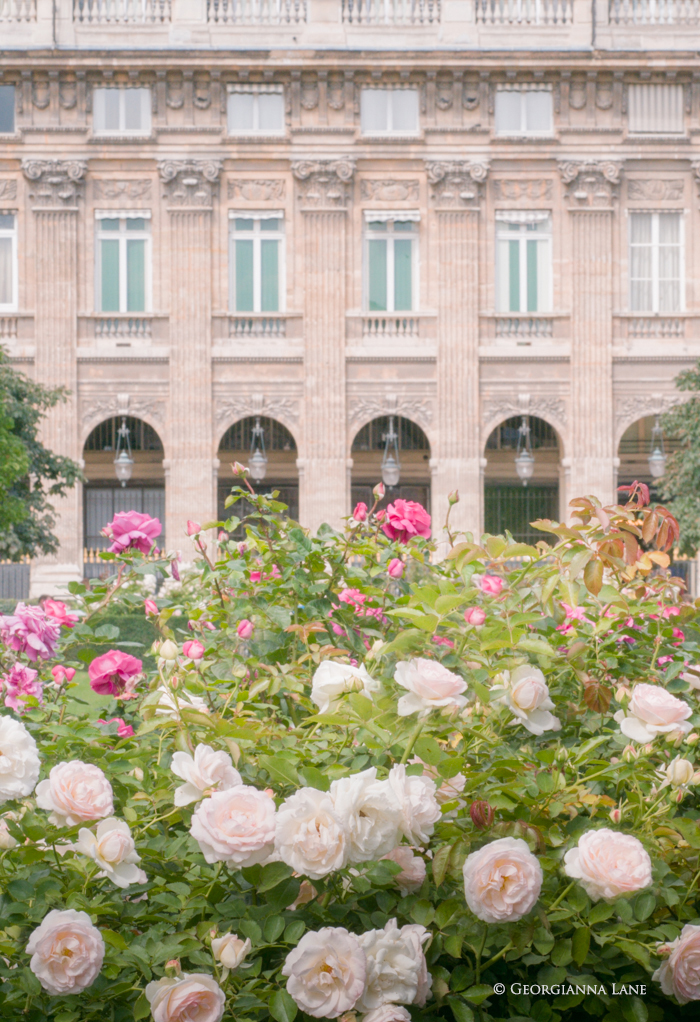 Bonjour, mes amis! Today we revel in the sumptuous roses and iconic architecture of the Palais Royal in Paris, an oasis of calm and peacefulness away from the perpetual bustle of the city. From The Louvre, you cross rue de Rivoli and rue Saint-Honoré to Place Colette, home of the state theatre Comédie Française, and enter the Palace through a beautiful colonnaded portico.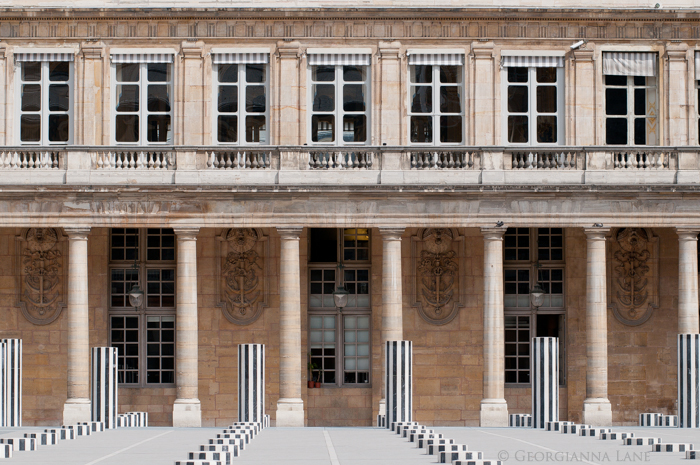 Pass through the courtyard of the Cour d'Honneur with its black-and-white striped Buren columns and grey-and-white striped awnings, a motif that I love juxtaposed with the riot of random color and shape in the gardens, which extend beyond through the arcade flanking the courtyard.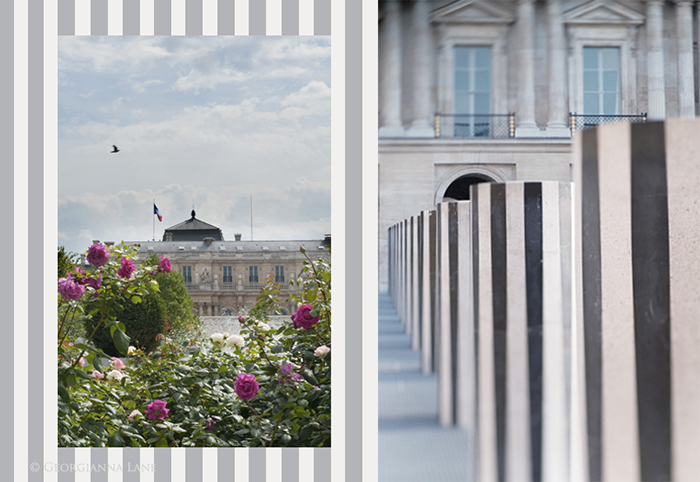 Quiet instantly envelops you, and the carefully placed chairs and benches beckon, populated more by local Parisians than tourists.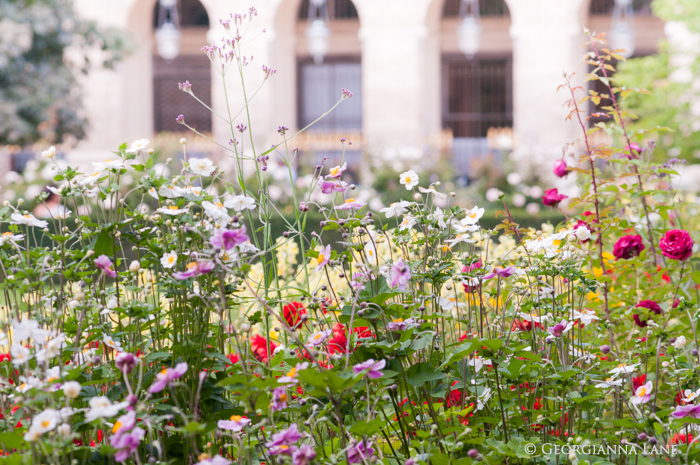 Taking your seat, a bright sea of bloom greets you from every direction.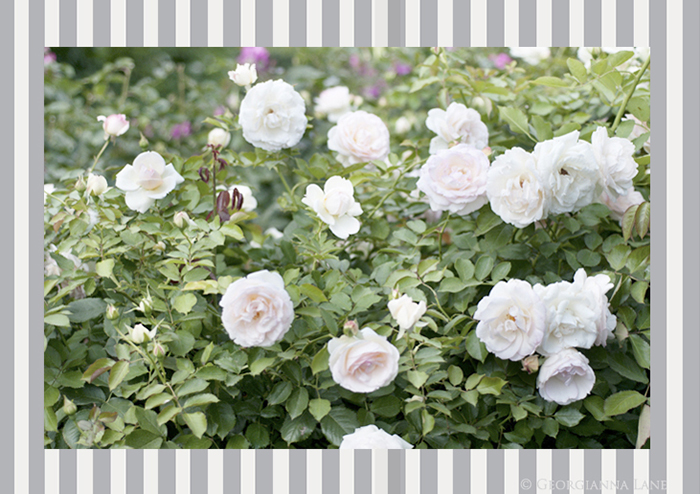 Not only roses, but white anemones, orange rudbeckia and all manner of summer flowers abound.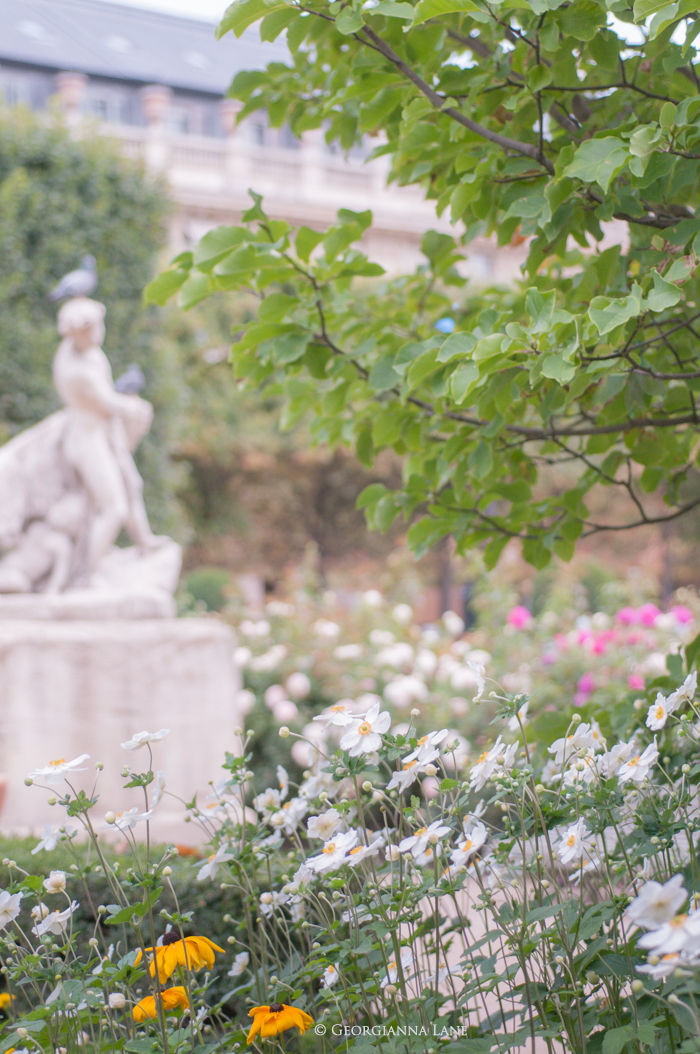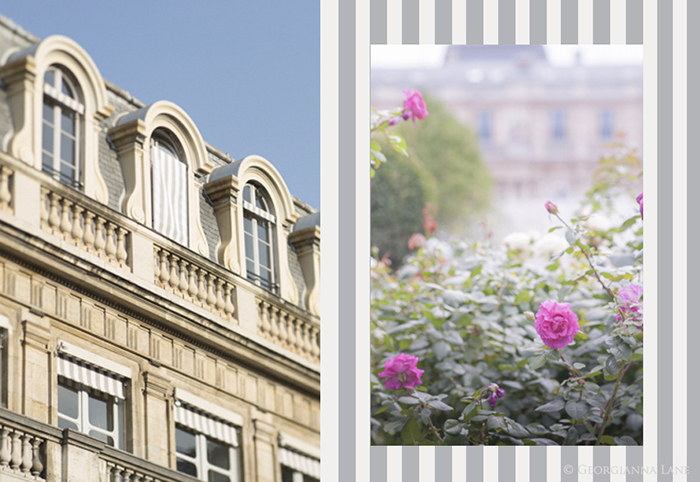 Wandering the dreamy abundance of the floral displays feels like walking through an Impressionist painting.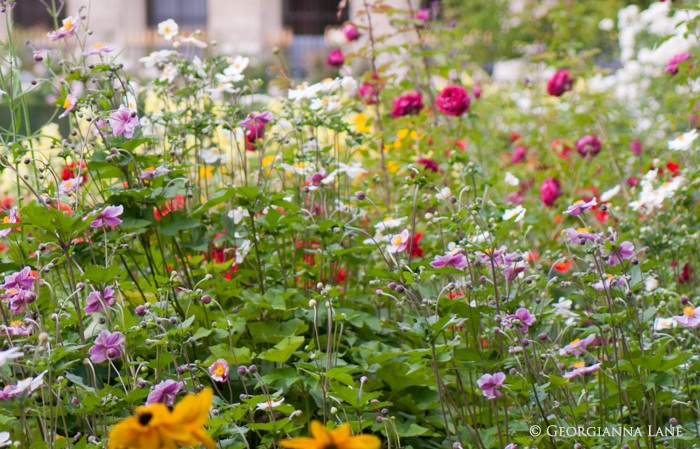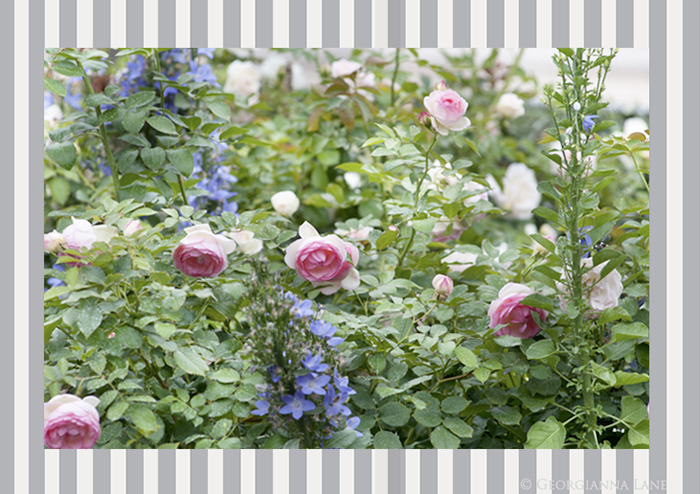 The gilded finials on the black gates of the arcades surrounding the gardens are another well-known feature. I love the contrast of the precise architectural symmetry with the exuberant wildness of the roses.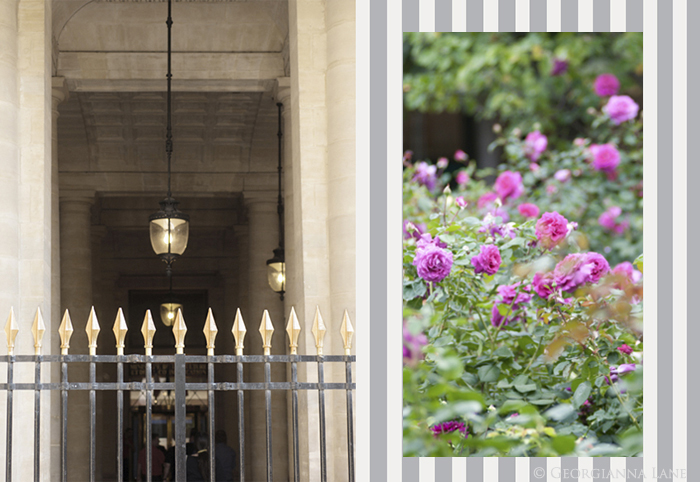 Double rows of clipped lime trees filter the light, adding a golden sparkle to the scene.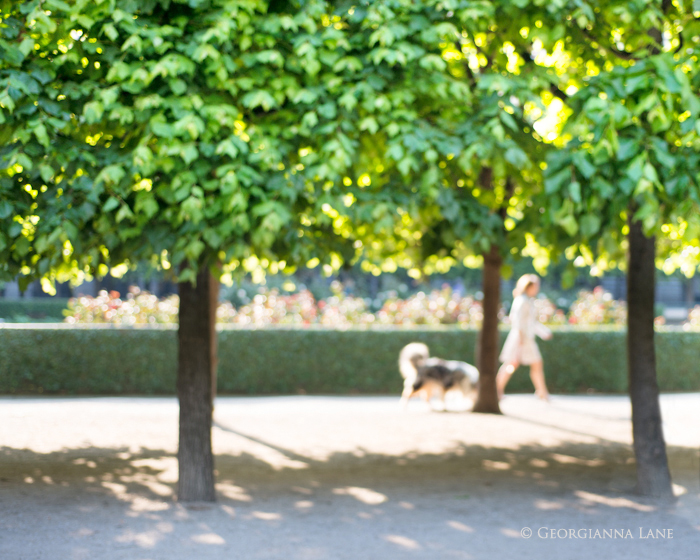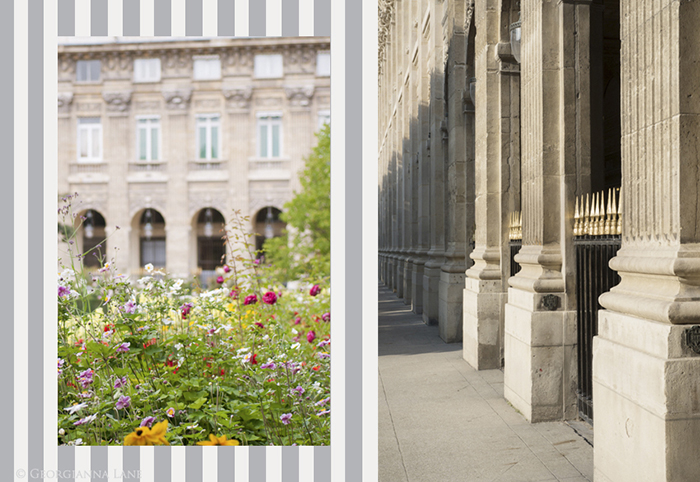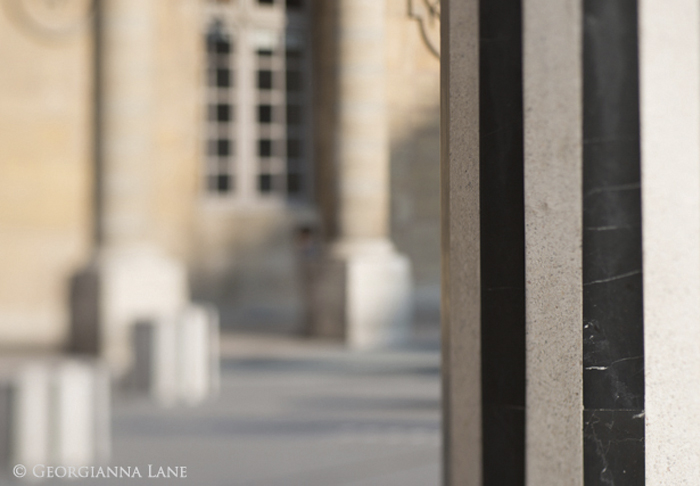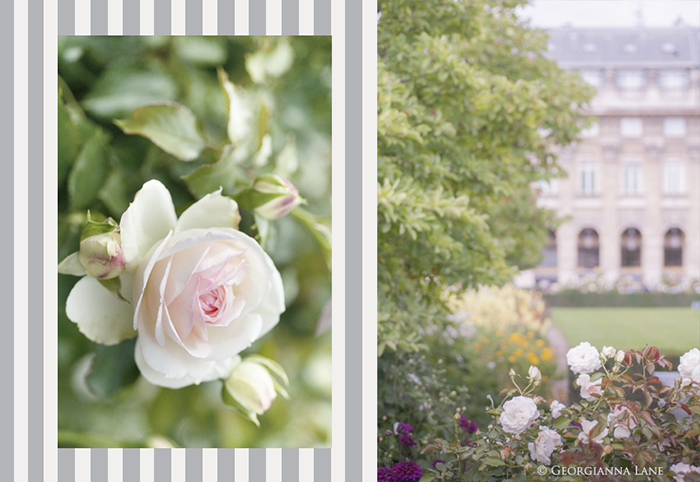 Hours can pass quickly, but as you reluctantly leave the gardens, returning toward Place Colette, stop by the delightful theatrically-themed gift shop for the Comédie Française, and then savor refreshment and people watching at the stylish Café le Nemours (I can recommend the warm chèvre salad and chocolate soufflé).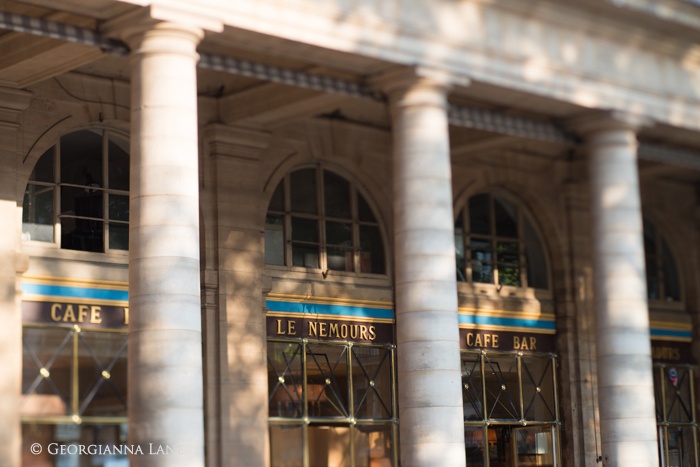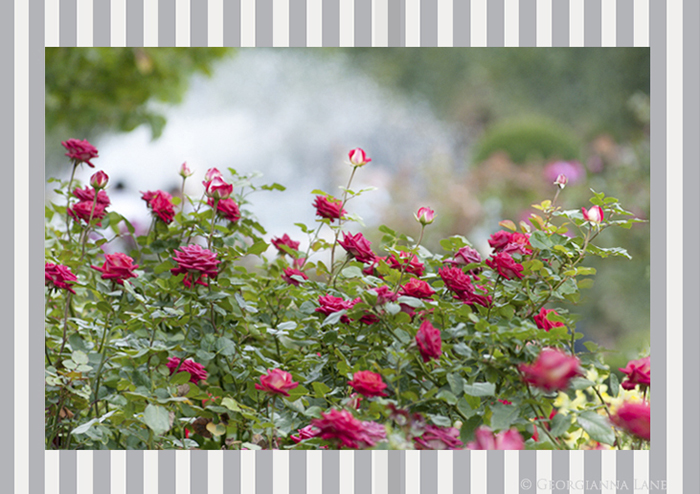 Palais Royal is a stunning retreat in which to recharge from a busy itinerary. Its proximity to major landmarks merely heightens its appeal – a welcome respite awaits mere steps from The Louvre.
Thank you so much for joining me! Á bientôt!
Love,
G
p. s.
(I'm very happy to be able to share these images from my trips last year. Currently, I understand the Palais is undergoing renovation and the views and photo ops are somewhat marred by scaffolding and construction.)