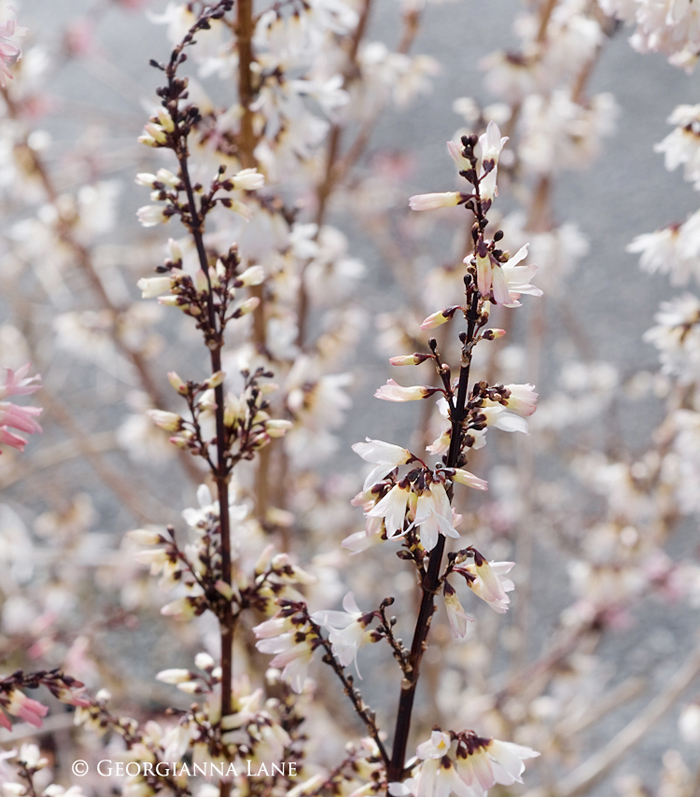 Abellophyllum distichum, White forsythia, blooming in late February, 2008
Dear February,
You are most welcome here
with your lengthening light
and the first faint flutterings
of bird song through bare branches
a gentle stir of nature
beneath still frosted earth,
tiny growth inviting second glances


Swiftest of all, you remind us
the year travels on,
while you beguile with love and sweet romances
Dear February,
You are most welcome here


I know you bring great adventures
Dear friends,
Winter seems to have tightened its grip on many of you this week. Stay safe and warm, please.
Some links for your weekend:
• Occasionally I'm asked to do a book review so I thought I'd start a separate page for those. I'd love it if you take a peek at the first one, which is on Jacqueline deMontravel's newest book Hers. I was honored to be asked – as many of you may know, Ms. deMontravel is the Editor of Romantic Homes magazine and a great inspiration to all of us who love beautiful imagery. (You can also reach this page through the link on the sidebar.)
• I'm gearing up to start sending out a newsletter in which I plan to announce specials, some tips and tricks, new releases and more. It would be so much fun to have you be part of it! You can sign up here, or click the link in the sidebar.
• And lastly, for a sometimes classic and sometimes humorous look at Parisian statuary, there is a new post up at Paris by Two.
Sunshine and warm temps this weekend in Seattle, so a walk around Green Lake and a bit of gardening have been added to the agenda. What do you have planned? Hope it's wonderful.
with love,
– g