Holiday-cor
Hello and I do hope you are having a splendid, festive and throughly enjoyable week!
By request, here are some images from around our house this holiday season.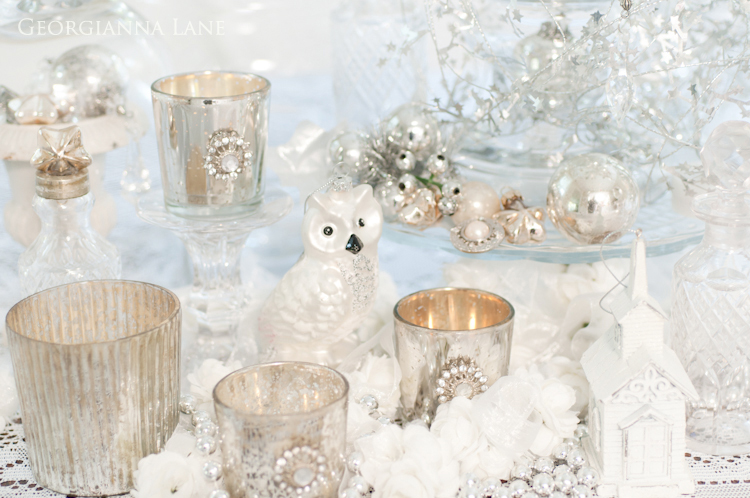 Whites and silvers for our cream and white dining room. Although I don't think they show well in the photos, I hung dozens of vintage hand-crocheted snowflakes from the ceiling. We don't have any snow at the moment, but this makes it feel wintery. My inspiration was the ice palace scene from Dr. Zhivago? Do you remember that magical scene?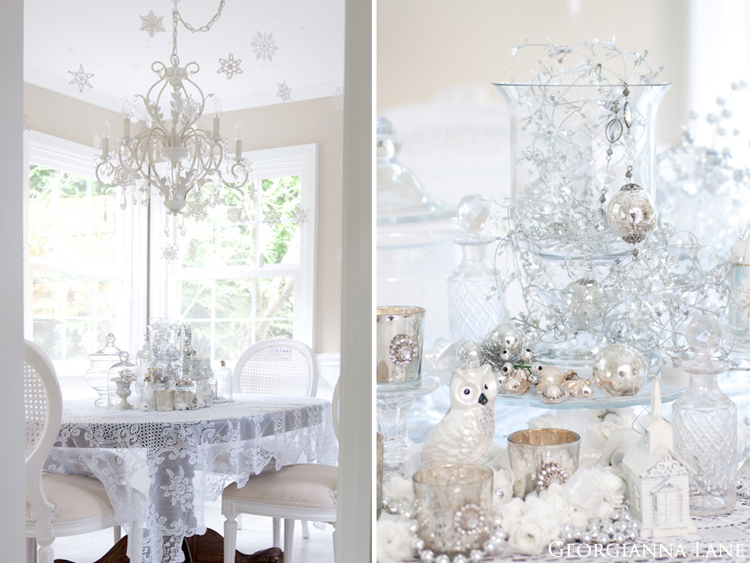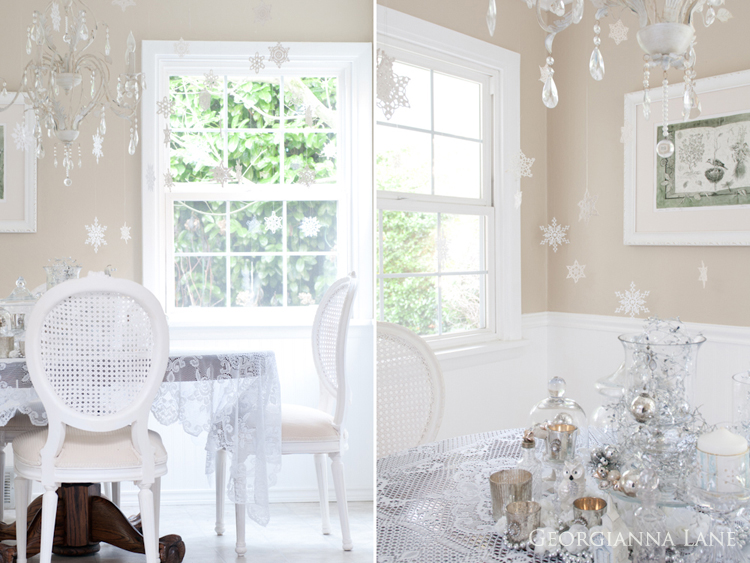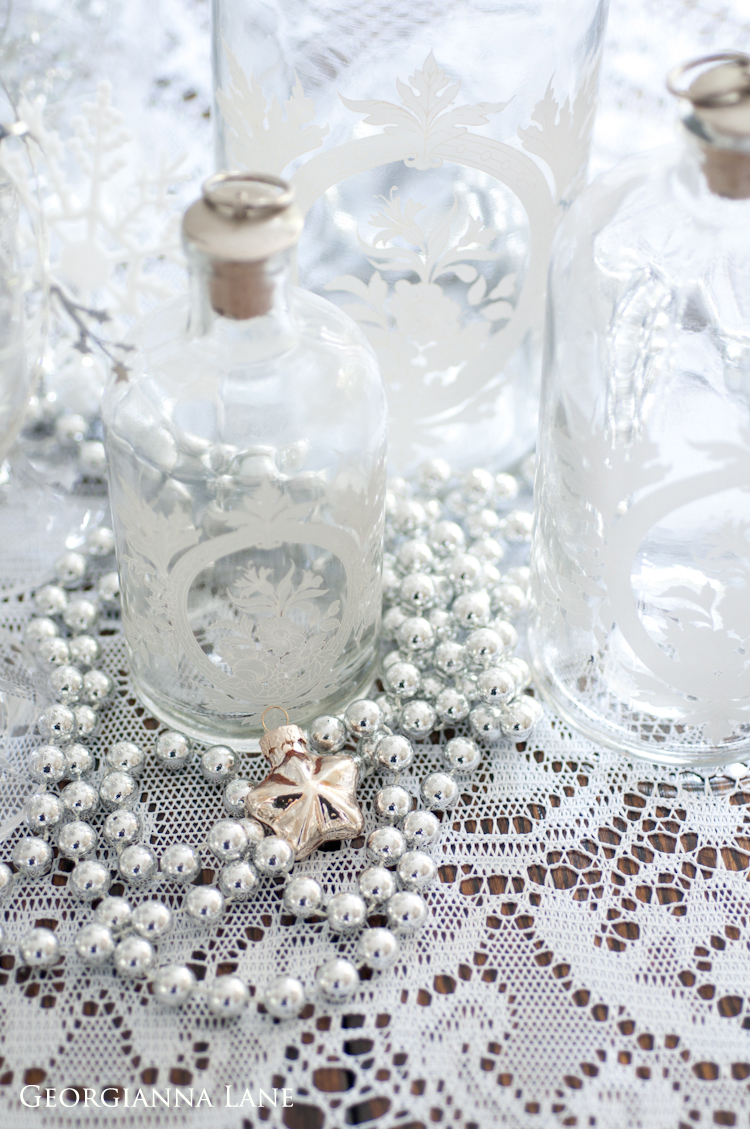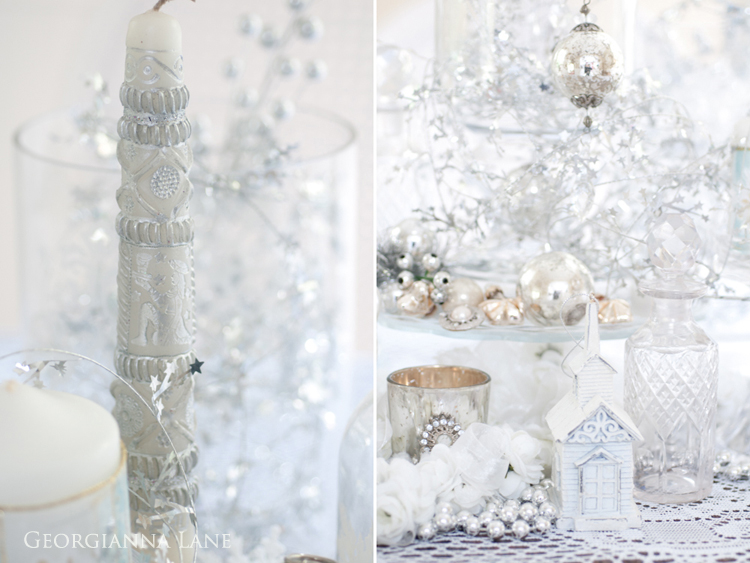 Another of the handmade candles from Peru. and a little church ornament that reminds me of the charming white country churches I photographed in Vermont.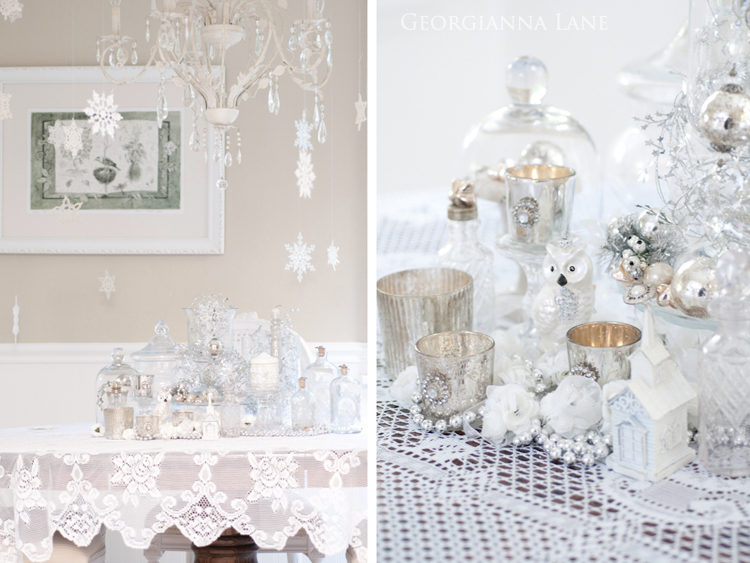 The table is usually bare wood but I liked the delicacy of this ($5.00!) lace tablecloth. German blown glass owl ornament was a gift from my Mom a few years ago.
And now, on to our office, where we spend most of our time in the winter.
A tray of loose ornaments: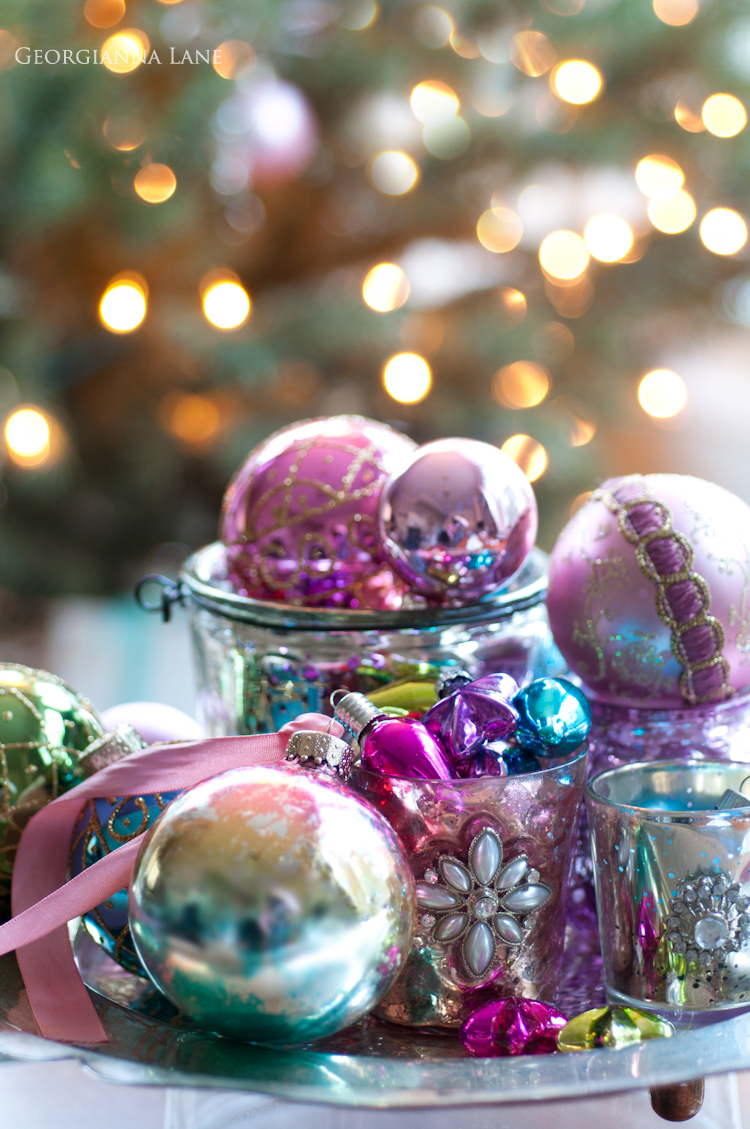 I usually do our holiday decor in traditional burgundy, gold and sage but this year, inspired by the wrappings on a huge array of gifts that arrived from a dear friend, I decided on turquoise/Robin's egg blue/Tiffany blue with pinks and accents of red hearts.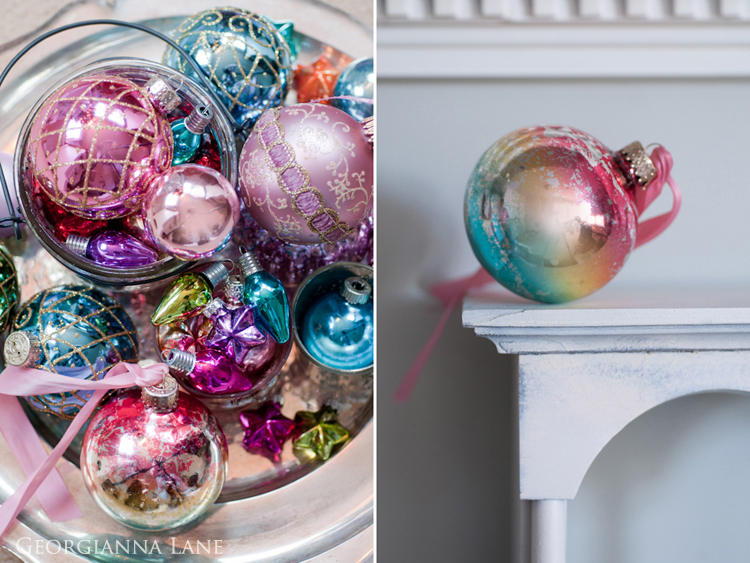 It feels refreshing and happy.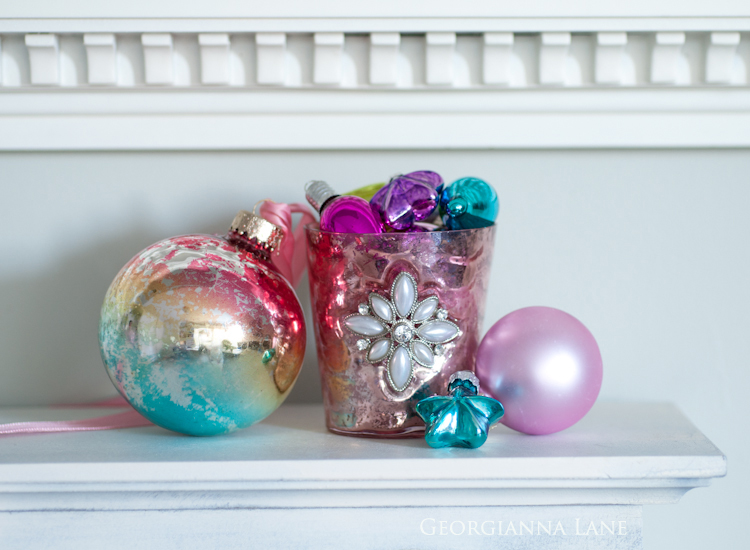 The ornament on the left above is quite old and has a wonderful crackled surface.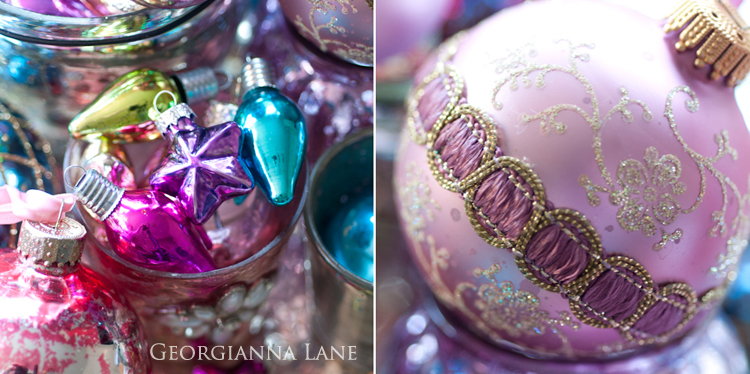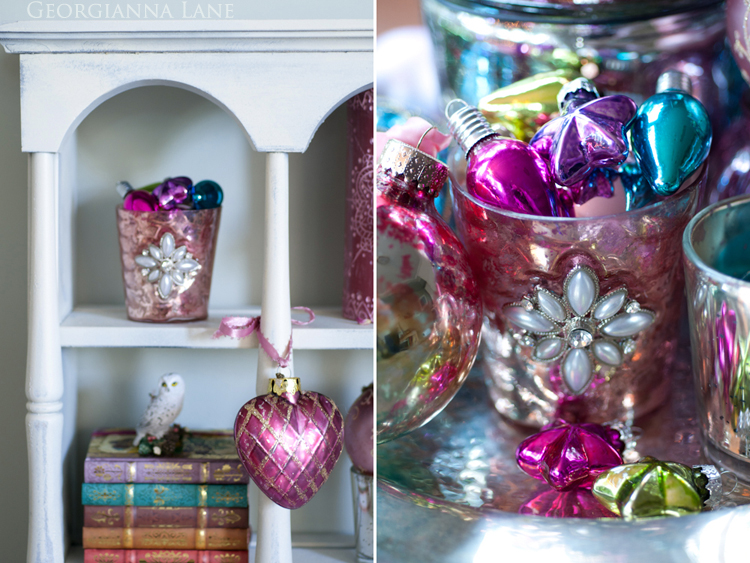 We always use a live tree as I hate the idea of chopping down any tree. This year we decided to have one in the office, a spruce, as well as our live one outside the living room windows.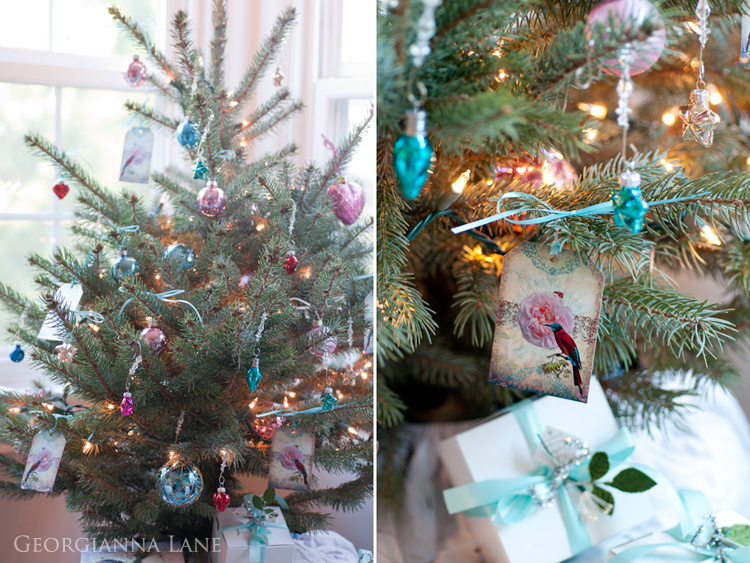 Here he is! He sits in the corner windows between our two desks, looking out over the other evergreens on our property. I only used lightweight ornaments as I don't want to strain the branches.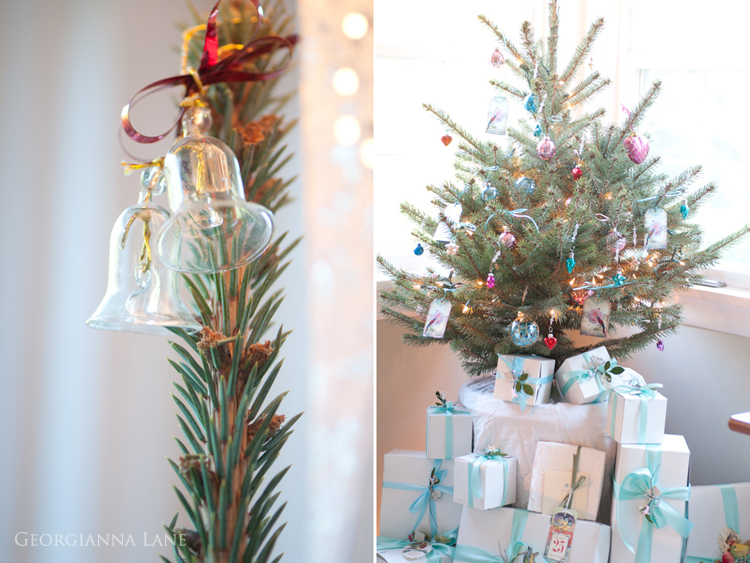 One of my oldest ornaments, the crystal bells. Plus lots of bird ornaments. I hung a big paper star above the tree.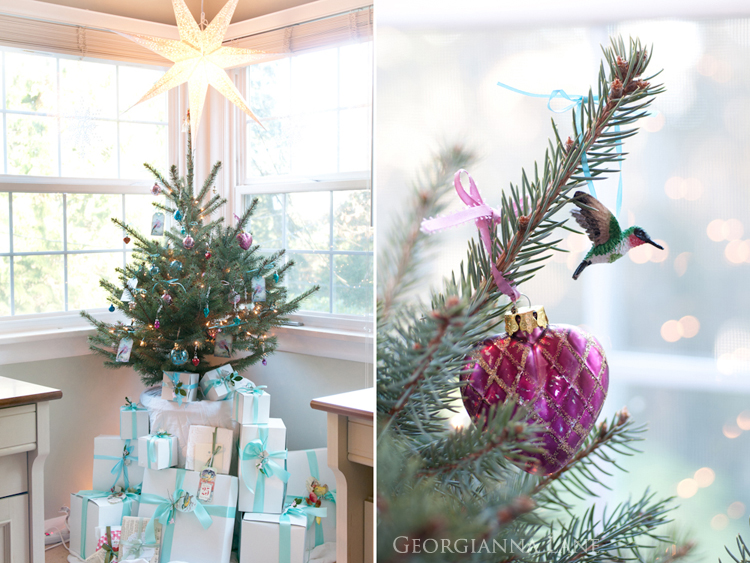 Garland on the kitchen door: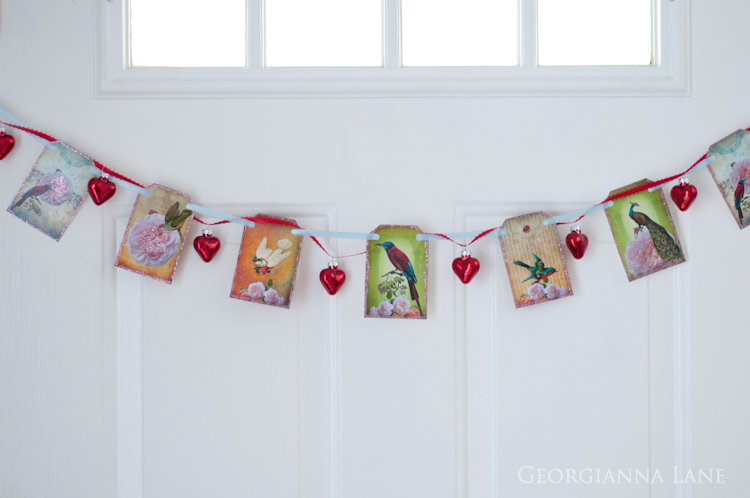 Miniature sled with very old, tartan covered books. They are only a few inches high. The sweet little mouse is an antique ivory netsuke given to me by a friend many years ago.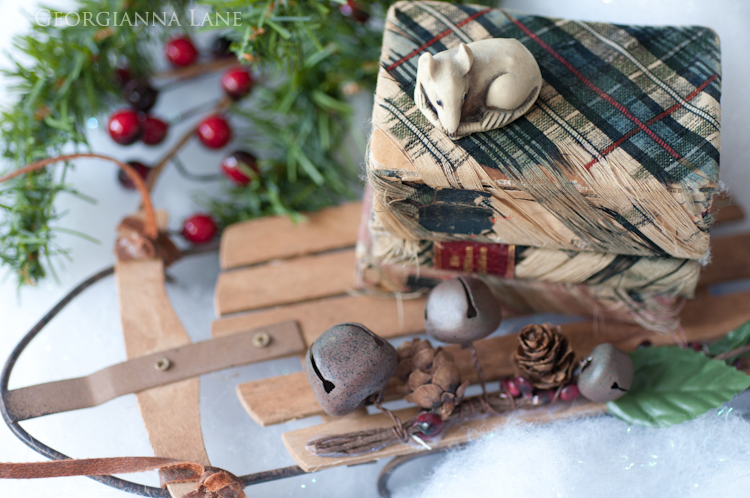 And finally, some heart lights (you knew that was coming, right?). :)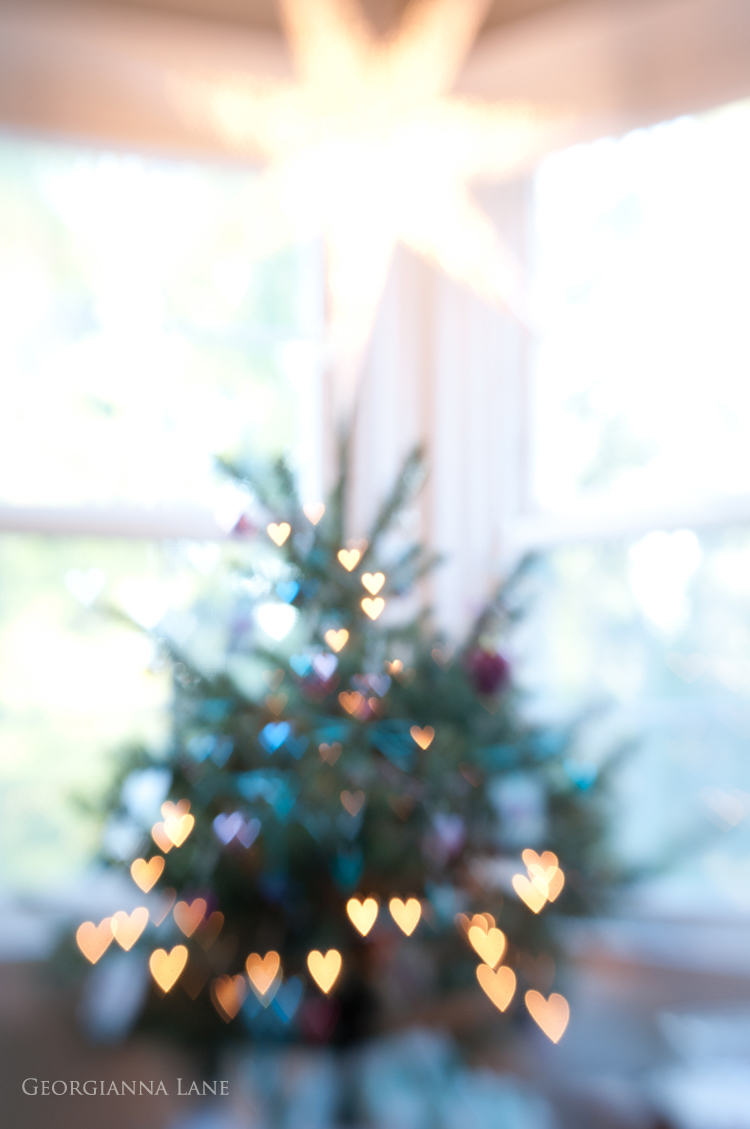 Thank you for coming along through the tour. And thank you for all the holiday beauty you've been sharing on your blogs – I've loved all of it!
I'll be back in a few days with some final images and will be visiting you but in case I miss you before the New Year, all my dearest wishes to you for a most wonderful, magic-filled holiday season and the brightest New Year you can imagine. Thank you for bringing sparkle and joy to my life.
with love,
– g
p. s. I hope you don't mind the falling snow effect. I normally don't like little gimmicks on blogs but I think this one is so charming. :)