Of Roses and New Friends
(Hello friends, thank you so much for your kind words on the French village photos. I'm really happy that you enjoyed them as I took many of them with you in mind. More to come, including a little history and more info on the village. But first, a short break from the travel photos to bring you a special story that I've been waiting to share until this exact day!)
Do you believe in coincidence? Or serendipity?
Two years ago today, I wrote
this post
. It's my only blog post about designing a magazine cover photo shoot and the only time I specifically named one image as being appropriate for a cover shot. (Although I do it often, I don't post about it.) This is the image showing David Austin roses and other flowers freshly cut from our garden that summer evening in June 2009.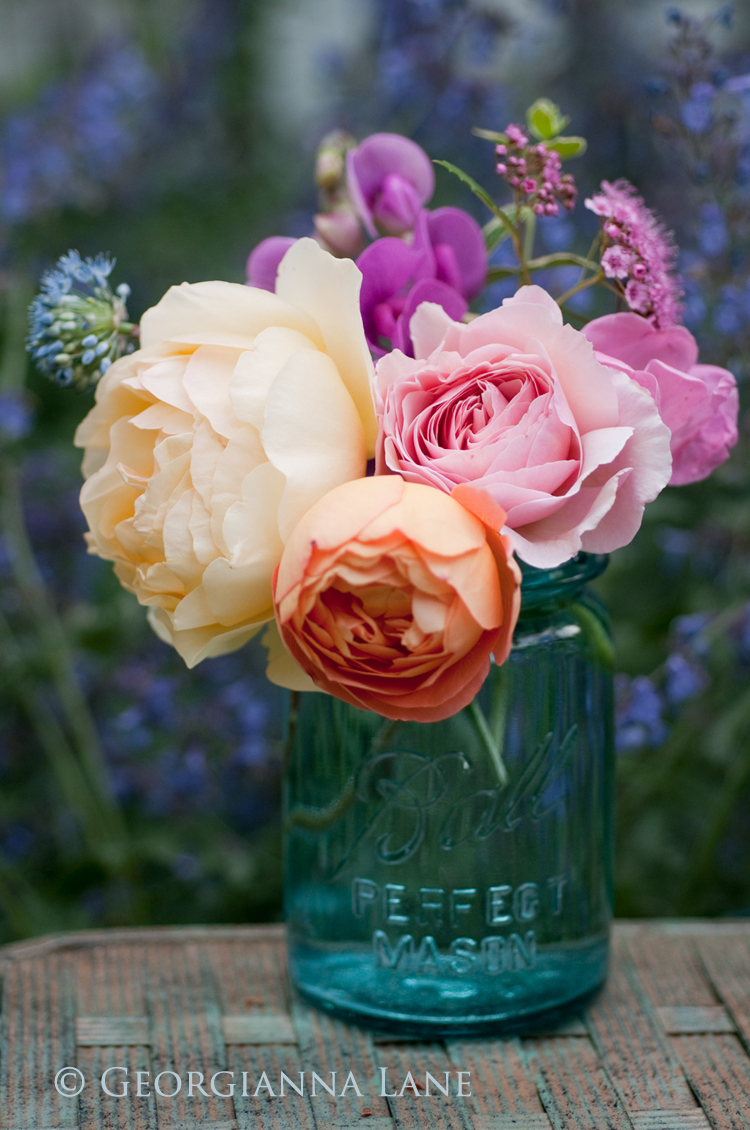 The morning after I wrote the post, I sent the image off to one of our international reps along with a thousand other images, including lots more covers, and thought nothing more about it.
A year later a royalty statement listed among the sales this exact photo, sold and licensed for a magazine cover in Australia. (By this time I'd forgotten that post.)
Now, the royalty statement didn't give the name of the magazine so I looked a bit for it online. I considered asking friends in Australia but felt that would be a lot of bother. So, I just hoped that one day I would find a copy to add to my portfolio and again forgot about it.
And then, in March of this year, almost another year later, I received a lovely message, via the contact form of our stock photo website, from an Australian artist, Lyn Donald. Lyn had seen the magazine cover and had gone to the trouble of contacting the magazine to track me down, via the photo credit. She loved David Austin roses but wasn't able to grow them in her area and was asking permission to use my photograph as the basis for one of her paintings. And she sent me a scan of the magazine cover. Coincidence? Lyn and I don't think so.
I was very touched that she went to the trouble of finding me, and even more touched by her warmth and her wonderful talent. Lyn paints very large scale (6 feet tall!), close-up paintings of flowers that are truly exquisite. We exchanged several emails and last month she sent me a photo of the finished painting: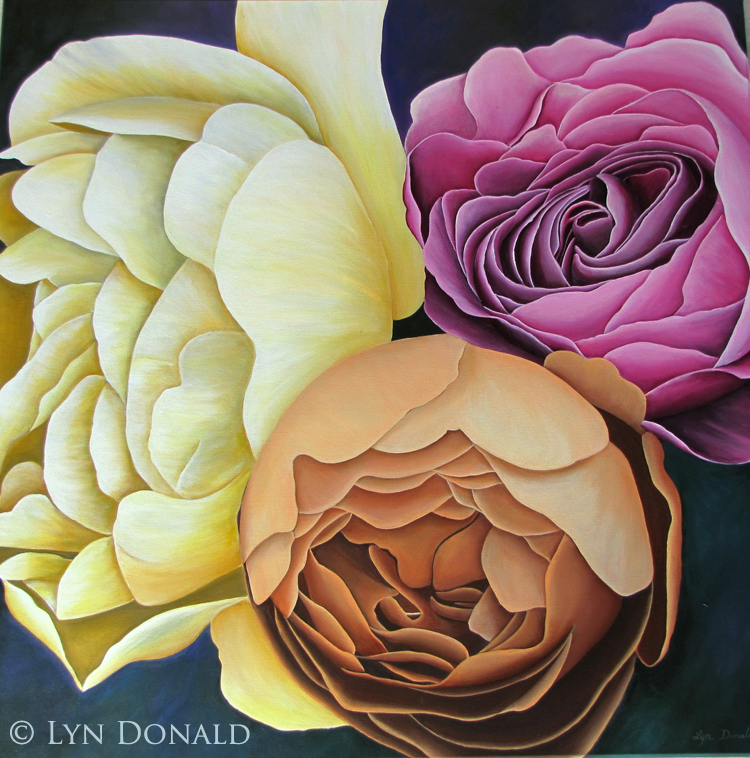 Georgianna's Bouquet by Lyn Donald
I love it! And just had to share it as I know so many of you love David Austin roses and beautiful art, and we all are so appreciative of the connections we make around the world. It was meant to be! Thank you so much Lyn.
Contact Lyn here to find out more about her amazing work.
See you all in a day or two!
xo – g